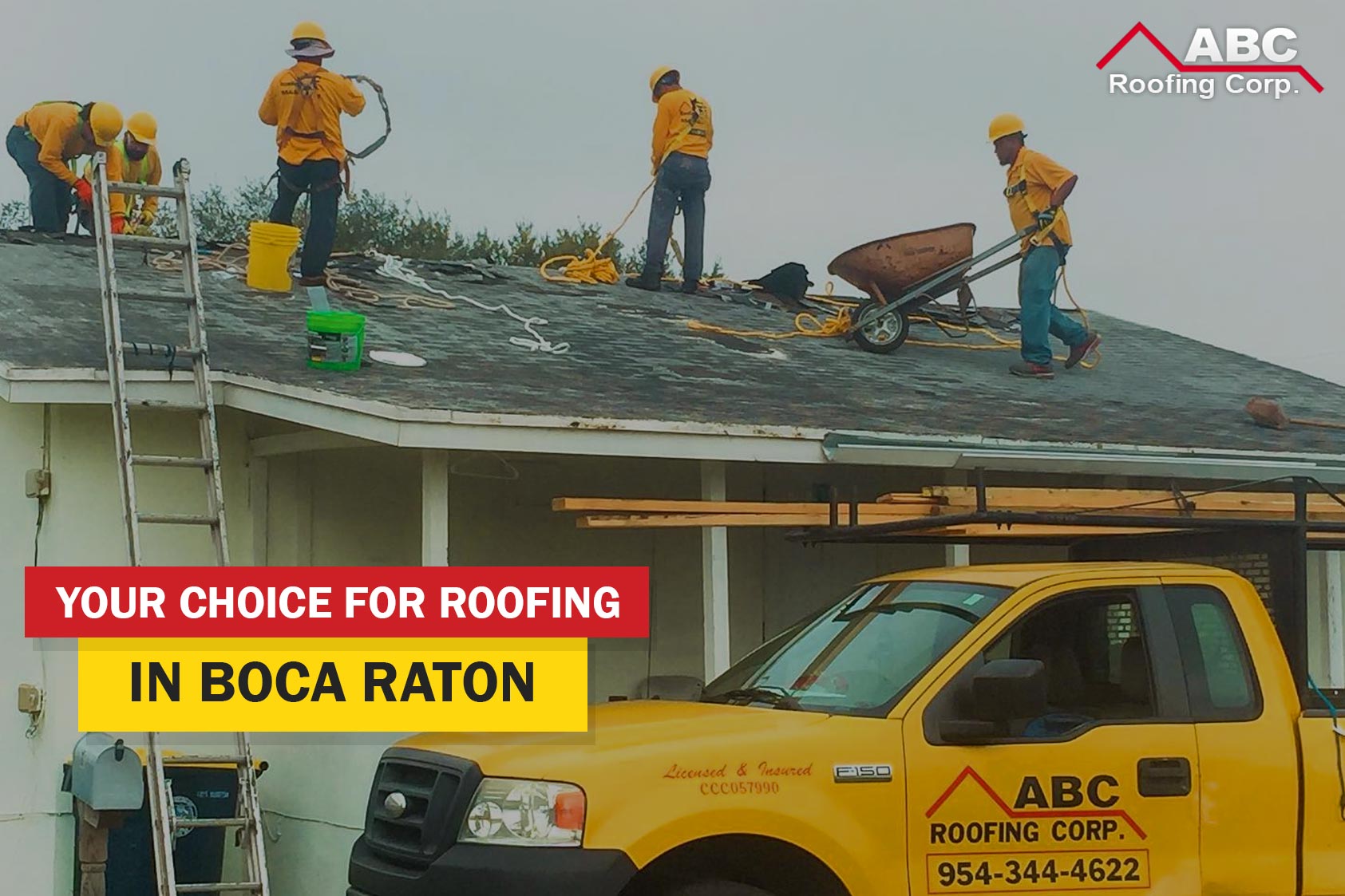 From humble beginnings in 1925, Boca Raton has grown into a beautiful city with this year marking 96 years since its incorporation. The town commissioned well-known and notable architects to plan out a unique and luxury resort community, signifying the beginning of a town in transformation during the Florida land boom. While this land boom did die down, and although not all plans were carried out there are a few landmark buildings that have been a part of Boca Raton from early. What it comes down to are excellent architecture and world-class workmanship.
With over 80,000 residents based in the Boca Raton, it remains the core area of the south Palm Beach County metropolitan community. At ABC Roofing Corp, our history is as important to us as the neighborhood we serve. With a solid reputation for both residential and commercial roofing, we're proud to be a recognized industry leader. If you're looking for roofing in Boca Raton, you've come to the right place!
Roofing In Boca Raton
ABC Roofing Corp is a family-owned establishment that prioritizes quality, value for money, and the safety of Boca Raton's residents. We offer both residential roofing services and commercial roofing services, big or small.
Residential Roofing Services
Our residential roofing services include maintenance and repairs, as well as installations. Our experience in the industry means that our roofers are able to recommend the best choice of materials for your home. Damaged shingles, faulty flashing, or weather damage – we're here to help.
Roofing Installation
We offer installation of:
Roofing shingles
Roofing tiles
Flat membrane roofing:
Metal roofing
All roofing options come with their own advantages, styles, colors, and aesthetic finish so depending on the final look you're going for, one of our roofers will gladly provide you with your options.
Roofing Repairs and Maintenance
We offer year-round roofing maintenance and very much believe in giving your roof regular TLC. After all, it is an essential part of your home's safety.
The flashings on your roof keep water from seeping in and they need to be taken care of. High temperatures can cause contraction and expansion which may lead to weak flashings. Loose flashings or cracked flashings should be repaired right away, no matter how small the site of the fault may be. This is good maintenance for your roof and ensures that you have covered all your bases. Talking about leaks, this is one area of repair you don't want to ignore. Leaks can cause serious damage to your entire roofing system and a lot of money. This is something that can be avoided as leaks are not a difficult fix if they are caught early enough. Leaks are sometimes difficult to detect, but our roofing experts know what to look for and we're on call to assist.
In some cases, the damage is out of your control. Damaged shingles caused by weather elements can cause you some stress. We have roofers ready to carry out an inspection and determine the extent of damage that has been caused and what will need to be done to rectify it.
Commercial Roofing Services
Commercial roofing requires a different set of expertise, mainly when it comes to the size of the area. The integrity of your commercial building is as important as keeping your family safe at home. In order to maintain business as usual, you'll want to avoid leaving maintenance for better days. Your commercial roof should receive regular checks and repairs. The bigger space is subjected to intense weather elements and can cause some costly damage to the contents of your business building.
A good roofing system will maintain the internal temperature of the building, making sure everyone inside is comfortable, and also that your electric bill doesn't present a nasty surprise when it comes time to pay up. Keeping your employees comfortable is one thing, reducing liability is another. Your commercial roof will need to pass various checks in order to operate, but to also cover you in the event that something happens to the building and hurts occupants. Whether you rent out your commercial property or run it yourself, this is an essential factor a business owner must consider. Having your roof installed by certified, reputable roofers will save you time and time again.
For All Your Roofing In Boca Raton
For over 30 years, ABC Roofing Corp has been serving the Boca Raton area with the same pride and quality workmanship as the founders of our town, consistently working to contribute positively to the community. We do this by offering our customers the best quality materials, expertise, and professionalism. From minor residential repairs to large-scale commercial builds, we've got you covered. Get in touch with us today and get a quote. We love meeting the residents of our special town and love creating beautiful roofs with them even more!
Do you want more roofing related information like this? Check out our Rooftop Tips blog! You can also follow ABC Roofing Corp on Facebook for all the latest articles and how-tos!
---
---