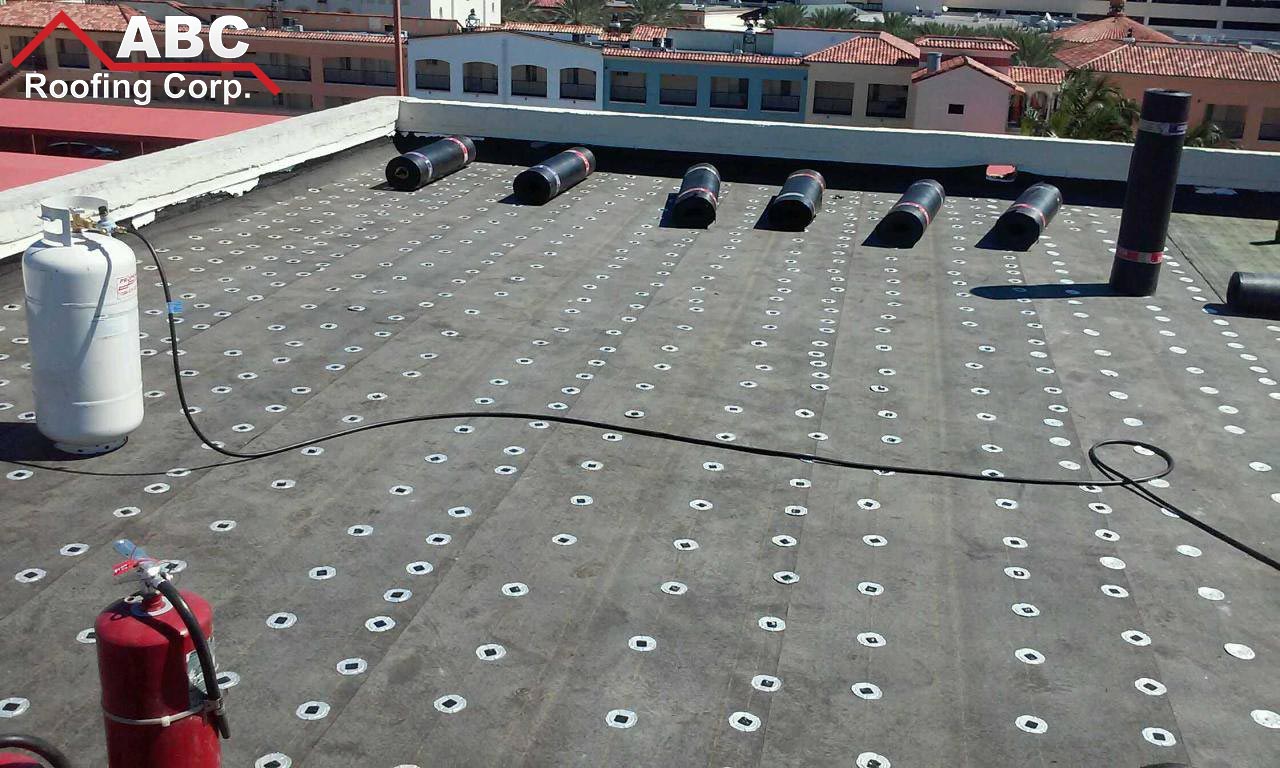 Your roof is one of the key elements for your commercial property. If you neglect your roof, you will need to have commercial roof repair work done to get it fixed as soon as possible. You need to ensure that all repair work is done before the damage becomes too significant, which will force you to replace your roof. The problems listed below are common issues for commercial roofing, but with regular maintenance from a licensed and professional roofing contractor you can easily manage and repair any little issues before they become big problems.
Common Commercial Roof Problems
Leaks

Leaks can happen at any time and in the smallest of places. Sometimes you will have visible leaks, and other times you won't know about any pooling water until your roof gives in.

Solution:
Putting a bucket under it to catch dripping water is not the way to fix your leaking roof. Making use of regular maintenance programs will reduce the risks of leaks and ensures that a professional roofing contractor is the one seeing to any and all problems you may have with leaks.

Defective Flashing

Flashing is used to protect the seams and joints of your roof from excess water. It stops water damage from occurring. Your flashing will unfortunately tear or break due to the natural expansion and contraction that occurs during the change of seasons, but it can be installed incorrectly as well.

Solution:
Have a professional roofing contractor assess exactly how defective your flashing is. He will best advise you if your flashing should just be repaired or if it should be replaced.

Ponding Water

Unlike roof leaks, ponding water (or standing water) does not drip. It forms a puddle or small "pond" on your roof. This puddle can cause severe water damage to your roof. Depending on the size of your commercial property and the size of the pond, it can also cause severe damage to the interior of your property should your ceiling collapse

Solution:
Make sure that proper drainage systems are in place on your roof or make use of proper insulation. Ask your roofing contractor to ensure that the flashings are placed correctly to avoid any leaks.

Blistering

If it looks like your roof is blistering or bubbling, there could be water or air trapped under the bubbles. This indicates that your roof may not have been installed properly or that there is moisture caught in the little pockets.

Solution:
Prevention is better than cure, have blisters seen to immediately in order to prevent any further damage to your roof.

Billowing And Blow-Offs

If your flashing was installed incorrectly, you won't only be dealing with leaks. Poorly attached flashing is more susceptible to being lifted or even blown off if strong winds are in the area. This can cause serious damage to your roof.

Solution:
It is important to hire a professional roofing contractor when installing a new commercial roof. A licensed contractor will understand the importance of good quality roof work as well as the importance of keeping your roofing to code to avoid having to deal with billowing and blow-offs.
At ABC Roofing Corp. we believe in giving our clients not only the best value for money, but peace of mind as well. Our quality workmanship is guaranteed as our commercial roofing services come with a warranty of either 10, 15 or 20 years.
---
---