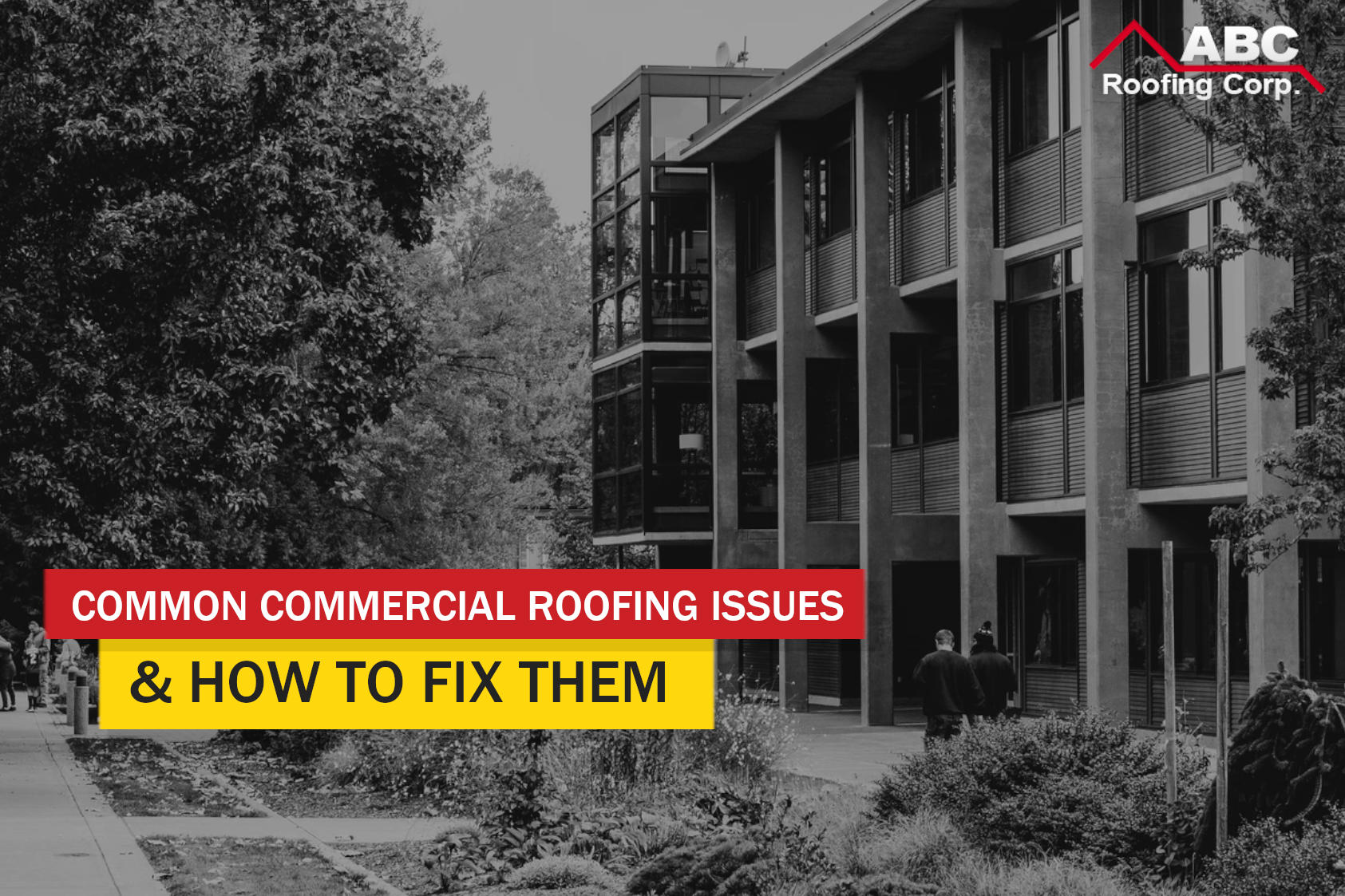 Commercial roofing issues are inevitable. Just like with anything in life, your roof will age over time and wear and tear will start to kick-in. Ignoring these issues is not recommended as they won't simply go away, and they can end up becoming bigger and even more costly to repair. For example, leaves can start to collect in your gutters over time, and if left untreated it can cause your drains to become clogged, which opens up a whole world of new problems.
Luckily, there are roofing experts who can come to the rescue, and fix these common issues with common commercial roof repairs. Here we identify some of the most common commercial roofing issues, and what we can do to fix them.
1. Lack Of Maintenance
One of the most common commercial roofing issues is a lack of maintenance. Regular roof inspections and repairs are crucial to making sure your roof is well-maintained and no problems are left untreated for too long.
As our experts like to say, "prevention is better than cure." Instead of waiting for something big to happen, like a tree branch falling on top of it, have your roof inspected regularly. This means that if there are any issues that might not be causing any problems yet, they can be treated and repaired and end up costing you less. One of the biggest mistakes we make as humans, is waiting until a problem is big enough to cause more problems, which ends up being a lot harder and more costly to fix.
A good example of this on commercial roofs is when we conducted an inspection recently and identified that the PVC membrane needed a new coat. If it had been left untreated, the entire PVC membrane would have needed to be replaced and be a lot more expensive to do than a new coating.
2. Poor Installation
A good installation builds the foundation for the longevity of your commercial roof. If your roof is poorly installed from the beginning, then it increases the likelihood that you'll encounter more issues later on.
The long-term function of your roof shouldn't be taken lightly. From the installation to the regular repair and maintenance, it should be done by someone with the right skills and expertise to minimize the risk of further damage later on. Choose a professional who can guide you on choosing the right commercial roofing system, and conduct regular inspections and maintenance. When it comes to roofing, DIY is not the way to go. Avoid making costly mistakes, and don't put yourself (and your roof!) at risk.
3. Choosing The Wrong Roofing Materials
Choosing the right roofing materials is more important than you think. Choosing the roof materials without understanding what the commercial space is going to be used for, could be detrimental to the longevity of your roof.
An example of choosing the wrong roofing materials for the commercial space is like when a restaurant has an EPDM membrane instead of a PVC roof. A PVC roof should be used as it is resistant to animal fats and grease and can last a lot longer. An EPDM roof will start to break down immediately when grease hits it, causing lots of damage, quickly.
Luckily, our roofing experts at ABC Roofing have years of industry knowledge to help you choose the right materials for your commercial roof.
4. Shrinkage & Cracks
A very common commercial roofing issue is when roofing materials expand and contract causing shrinkage and cracks.
Some types of roofing materials – like metal – expand and contract with the changes in temperature from hot to cold. This means that metal drip edges and flashing can drastically change in size between seasons. As the metal expands and contracts over time, joints and cracks can start to form causing holes that can lead to roof leaks.
With regular inspections and repairs, our roofing experts can spot where these cracks might start to form and repair them before they become a problem.
5. Standing Water & Leaks
One of the more common issues for flat commercial roofs is standing water that can result in clogged drains and leaks.
Hurricane season in South Florida can bring strong winds and lots of rain. As a result, leaves start to collect on roofs causing the gutters to become clogged, and the rainwater has nowhere to go. A lot of the time, standing water issues are as a result of poor roof installation or design. Our roof experts are here to help you choose the right roof for your needs, and to make sure all of your repairs are seen to, to avoid worse problems later on.
Contact A Professional Roofing Contractor For All Of Your Commercial Roofing Needs
Together we can make sure that all of your commercial roofing needs are seen. At ABC Roofing, we can conduct frequent inspections and maintenance to spot any repairs and treat them, before it escalates into something that requires a lot more work. If you think you might be in need of a roof repair or inspection, give one of our professionals a call at 954-344-4622, and get top quality commercial roofing services today!
---
---