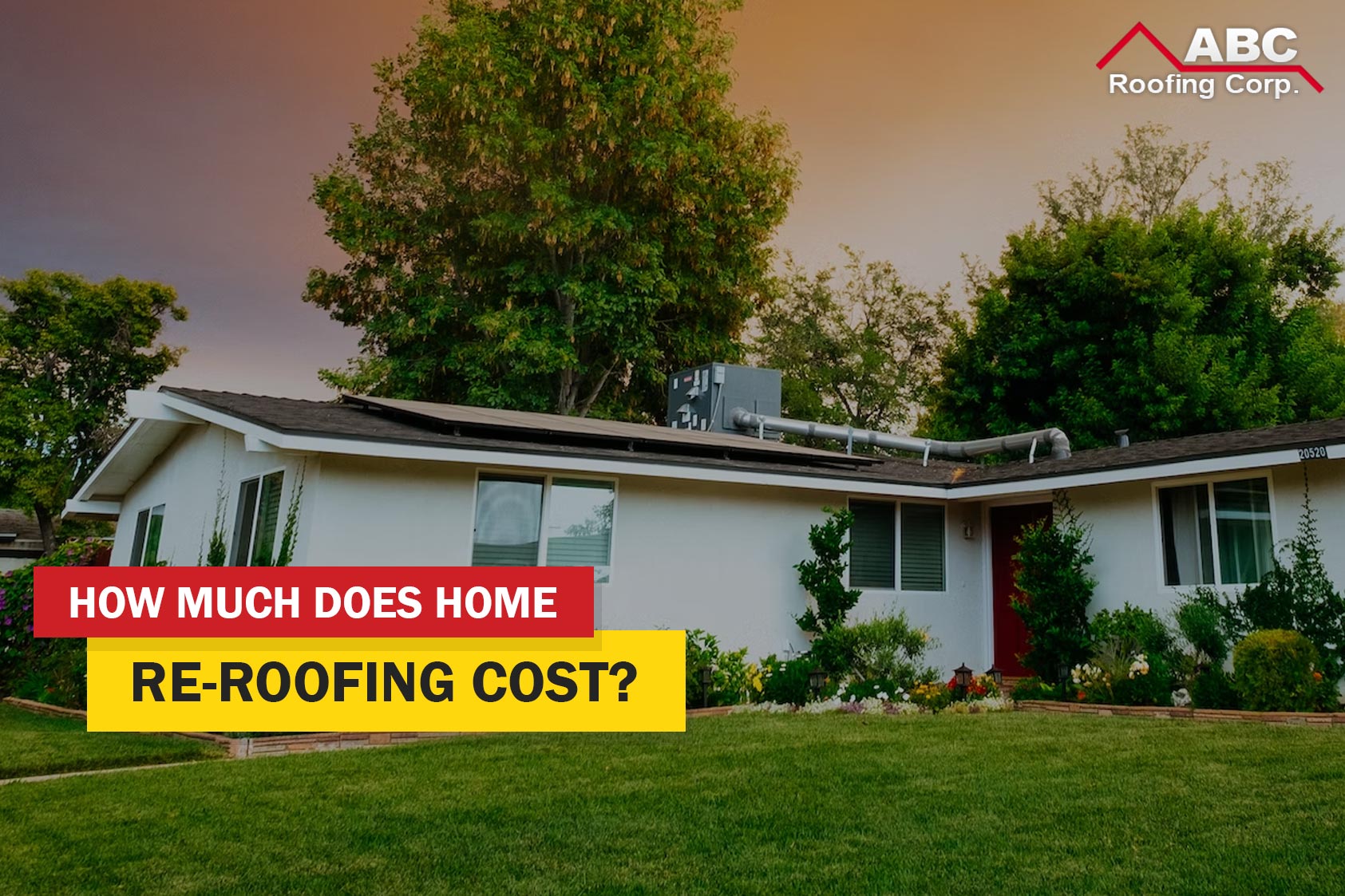 Is it time for home re-roofing? From making sure your tile/shingles are secure, to looking out for cracks and leaks, the condition of your roof impacts the comfort and safety of your home. But when it comes time to repair or replace your roof, how much should you expect to spend?
The team at ABC Roofing is here to address all your questions about home re-roofing costs. Read on to learn more about the cost factors that influence home re-roofing prices.
Factors That Impact Re-Roofing Costs
A variety of factors can affect the cost of re-roofing a home, but some of the most common include:
Size and Pitch: Generally speaking, larger roofs require more materials than smaller ones, and steep roofs cost more than flat ones. This is due to challenges for the workers.
Material Type: Whether you choose asphalt shingles, metal sheets, wood shakes, or concrete tiles, these materials will affect the costs of the project.
Extra Services: Depending on the condition of your existing roof decking or flashing, your roof may require additional services like replacing plywood sheathing or repairing flashings.
Labor Costs: This includes both direct labor (workers installing new materials) as well as overhead costs associated with managing the project (coverage for tools and supplies).
Local Market Conditions: The cost of living in certain areas may drive up home re-roofing prices due to increased demand or lower availability of contractors and materials.
Material Costs
Roofing material will have a huge impact on total home re-roofing costs. It's important to consider your budget and the long-term value of each material when making your decision.
Ultimately, home re-roofing is an investment in the safety of your home as well as its overall value. Taking the time to research materials, contractors, and average costs will help you make a smart decision that keeps you within budget. Ultimately, you can be ensured that your home is properly protected for years to come.
Repair Vs. Replace
Depending on the condition of your home's roof, you may be able to get away with a few repairs rather than a full re-roofing. However, if you're dealing with a major leak, extensive damage from storms or other natural disasters, or just significant aging, replacing your entire roof may be the better option.
It's important to thoroughly inspect your home and talk to an experienced professional who can provide advice and help identify potential problems before they become costly issues down the line.
Turn To ABC Roofing For Your Home Re-Roofing Needs
ABC Roofing has over 30 years of experience providing high-quality roofing services in Florida. Our licensed and professional roofers can custom tailor a home re-roofing plan to fit your needs.
We're here to answer all your questions about home re-roofing costs and help you make an informed decision that fits within your budget.
Call us at (954) 344-4622 for more information about our residential roofing services and pricing.
---
---