Regardless of how well looked after your home's roof may be, there's a high likelihood that you'll need to replace it at least once during your lifetime. Harsh weather, falling trees, and normal wear and tear can take a toll on even the best-made rooftops.
Here's everything you ever wanted to know about the roof replacement process.
Roof Replacement: A Six-Step Process
There is a standard process that most roofing companies, including ABC Roofing, use when completing a roof replacement. Your roofing contractor will conduct the following steps:
1. A Roof Inspection
If you've noticed any damage to your roof, or if it's reaching its life expectancy, you should speak with a roofing contractor.
A roofing contractor will assess your roof, determine its condition, and establish whether a replacement is required. They will also estimate how much it should cost and tell you about the material options you have for your home or business's roof.
2. Remove Old Roofing Materials
A roofing contractor will carefully and safely remove existing roofing material and dispose of it in dump trucks, trailers, and/or roll-off dumpster bins.
3. Roof Repairs
If your current roof is incredibly old or damaged, a roofing contractor will likely need to repair the frame. In some instances, they might also need to add new sheathing, allowing your new roof to have a long-lasting, sturdy base.
If a roofing contractor simply covers up old or damaged roofing materials, it will worsen your roof in the long run, and you could have to pay more to fix it.
4. Select New Roofing Covering Materials
After you've removed your old roof, you may need to choose new roofing materials. A contractor can speak with you about the strengths and limitations of each material. For example, you could have cedar shakes for a natural look, three-tab shingles, dimensional shingles, standing seam metal, and concrete tile if you want to increase your home's curb appeal.
5. Prepare Roof Decking
Before new roofing materials can be applied to your old roof, a contractor will install an approved underlayment. This material will overlap with the peaks for protection against water intrusion. This underlayment is either mechanically attached to the roof deck or self-adhered directly to the deck.
6. Install New Roofing Covering Material You Have Chosen
Signs That A Roof Replacement Is Needed
These are a few of the common indicators that your roof is damaged and may need to be replaced:
You've noticed mold or mildew growth.
There are damp spots or foul odors in your attic.
Your roof is sagging or bending in the middle.
You've noticed broken, warped, or damaged shingles or tiles.
You can see sunlight streaming through the ceiling into your attic.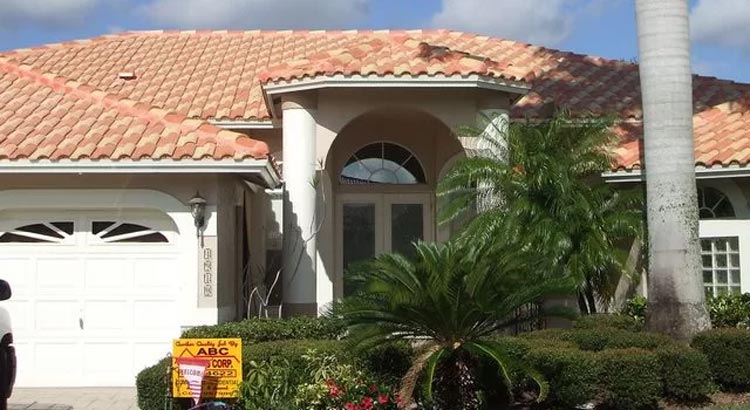 Roof Replacement Projects In South Florida
If you need a new roof, you're in luck, at ABC Roofing, we have the experience to ensure your roof is replaced correctly the first time. We have over 30 years of experience protecting homes in the South Florida area. If you're concerned about the health of your roof or have other questions about our services, call us today at (954) 344-4622.
---
---