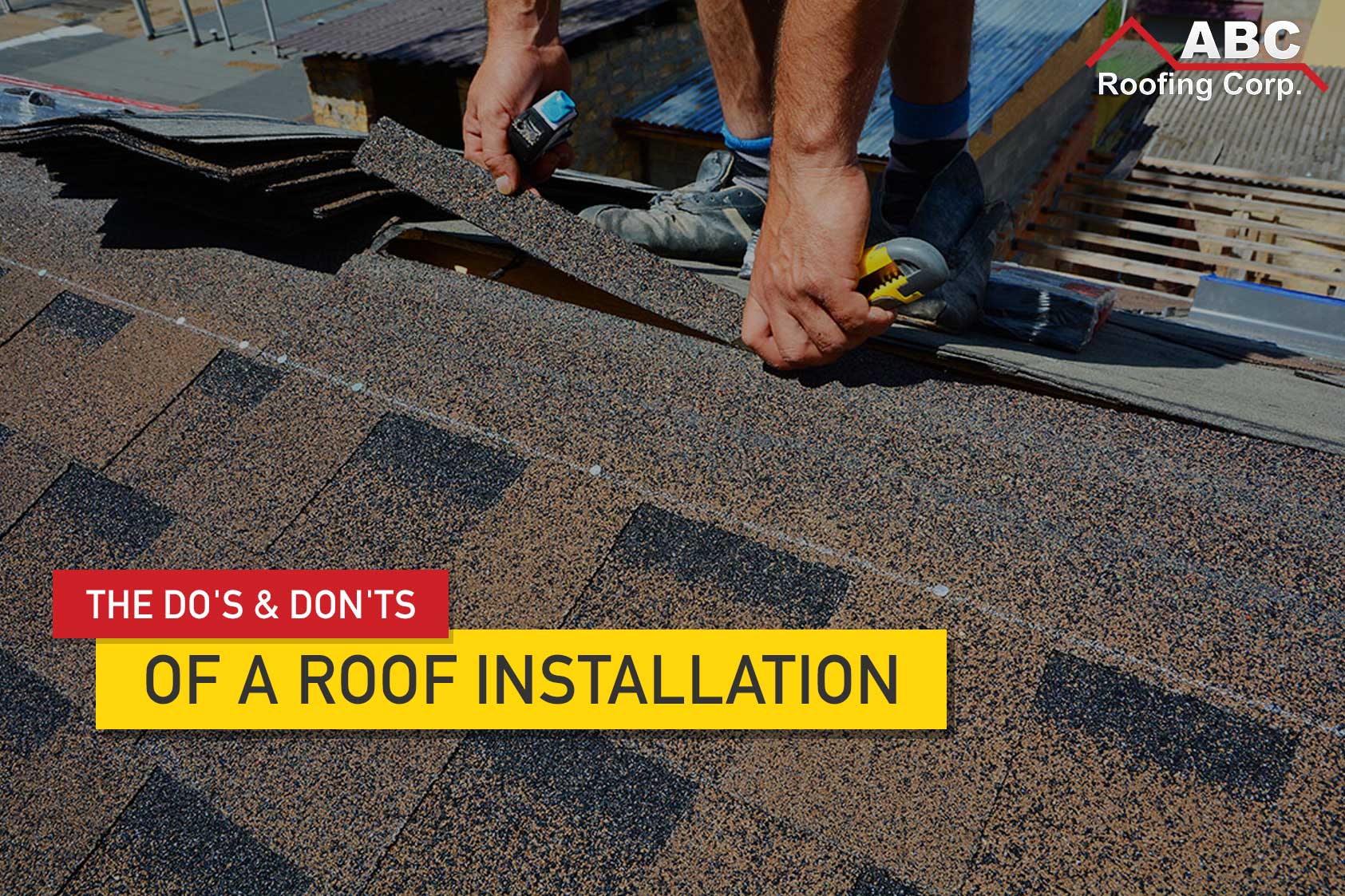 Your roof is the cherry on top of your home, so it's important to take time researching as much as possible when planning the installation. There are many factors to consider including who to choose as your contractor, what color shingles you want, and what roofing material you want to use. At ABC Roofing Corp. we understand there is a staggering number of things you need to keep in mind, so we've compiled a list of do's and don'ts to keep things simple for you.
Preparing For Roof Installation
Do Minimize Damage to Your Yard

Roof installation can cause damage to plants and shrubberies, especially if they're planted close to your walls, so it's important they are covered with a tarp. Most contractors will do this for you but double-check with the company before they begin working to prevent any delays.

Do Ensure Your Home is Prepared

When having your roof installed, your walls are bound to shake and vibrate at some point – either from the installation crew walking around while carrying heavy materials or from them using hammers to knock things into place. Before the crew starts working, take-down any pictures or art you have hanging on your walls and put away breakable items that might topple off a shelf.

Do Protect Your Family

A building site can be dangerous if you don't know your way around it, so you need to make sure your children and pets are kept far from the work zone during the entire installation. Broken tiles, loose nails, and materials tossed from the roof can cause serious injury.
Roofing Materials
Do Make Sure You Like How Your Roof Will Look.

Since most roofs last for around 20-30 years, it's important to pick the best shingle color for your home. Constructors often have samples they can bring to show you, and some will edit a photo of your home with various shingle colors so you can get an idea of what the finished product will look like.

Do Consult the Homeowners Association (HOA)

Rules and regulations put in place by HOAs differ from region to region. Some might not allow certain styles, materials or colors. To prevent a very large "oops," – follow your HOA instructions.

Don't Let Cost Be Your Only Concern

A roof is a large investment. While it may be tempting to save money and settle for the cheapest option – this can cost you more in the long run when you take maintenance and replacements into account. Your contractor should help you pick the best possible quality option while staying inside your budget.

Do Look At All Available Material Options

Check for the different roofing underlayment materials available to you.
Choosing Your Roofing Contractor
Do Ask for Roofing Contractor References

The best way to see if a contractor is reliable or not, apart from hiring them and seeing for yourself, is to talk to people who have previously hired them. Find online reviews and ask your contractor for customer testimonials to make sure you hire a good, reputable company.

Do Ask for an In-Depth Estimate

Ensure your estimate is in writing and includes all the necessary elements for installation and completion of your new roof.

Don't Agree to Shortcuts

If a sketchy contractor made it through your selection process, they might try cutting costs by taking shortcuts on material expenses. Make sure you inspect the materials when they are delivered to your home to ensure you "get what you paid for."
For decades, ABC Roofing Corp has been a trusted roofing expert in South Florida. If you've got roof problems, we've got you covered. Call us today at 954-344-4622!
---
---