As a South Florida homeowner, you're always looking for new ways to improve its condition and value. Of all the home maintenance and improvement efforts to consider, repairing and replacing the roof may be the most valuable. Whether you're thinking about selling or are interested in preserving your home's value for the long term, a new roof is definitively one of the soundest investments you can make.
You have a wide range of roofing materials from which to choose when replacing your roof. Many Florida homeowners are flocking to install tile roofing as their material of choice. Let's find out why.
What Makes Tile Roofing Different From Other Materials?
Not all roof materials are created equal. Considering South Florida's climate and weather conditions, tile roofing is one of the best choices. Instead of the traditional asphalt shingle, tile roofing is far more durable. This means it can withstand harsh weather conditions more robustly. It also means you won't have to replace it as soon as you would an asphalt shingled roof.
There are other maintenance distinctions, too. Tile roofs, usually comprised of concrete or clay, are naturally resistant to mold, rot, and moisture absorption. In fact, the average moisture absorption rate for tile roofing is less than one percent.
Because of these natural properties, tile roofing won't require the harsh cleaning regimens that other roofing materials do. You can also expect tile roofing to be easier on your checkbook since you're not replacing or repairing it nearly as frequently.
Advantages Of A Tile Roof
In addition to its water-resistant qualities, tile roofing is also highly resistant to fire, wind, and insect damage. In many instances, tile roofs last decades beyond the traditional asphalt shingle roofs: about 25 years.
Wood and asphalt shingles degrade over time, usually fading and showing signs of wear. Tile, on the other hand, ages well, typically retaining its original colors. You can expect those distinctive hues to last nearly the duration of the tile roof itself.
Impact Of A Tile Roof On Home Value
Installing a new roof of any kind can add $12,000 to your home's value, according to recent expense reporting data. According to Remodeling Magazine, a new roof can boost your home's resale value by 60%.
When you replace your roof with tile roofing materials, those values can surge even more. Because tile roofs are built to last for the duration of the structures they protect, the cost-per-year estimates are less than other roofing options.
These additional benefits can significantly impact the resale value of your home:
Tile roofing requires minimal maintenance.
Tile roofing retains its appearance longer.
Tile roofing boosts insulation properties, reducing energy costs by up to 20%.
Tile roofing typically comes with 50 years of warranty coverage.
Tile is easily recyclable and environmentally sound.
Tile roofing helps satisfy LEED and Energy Star requirements.
Tile roofing can lower insurance costs with improved resistance to water, wind, fire, and pests.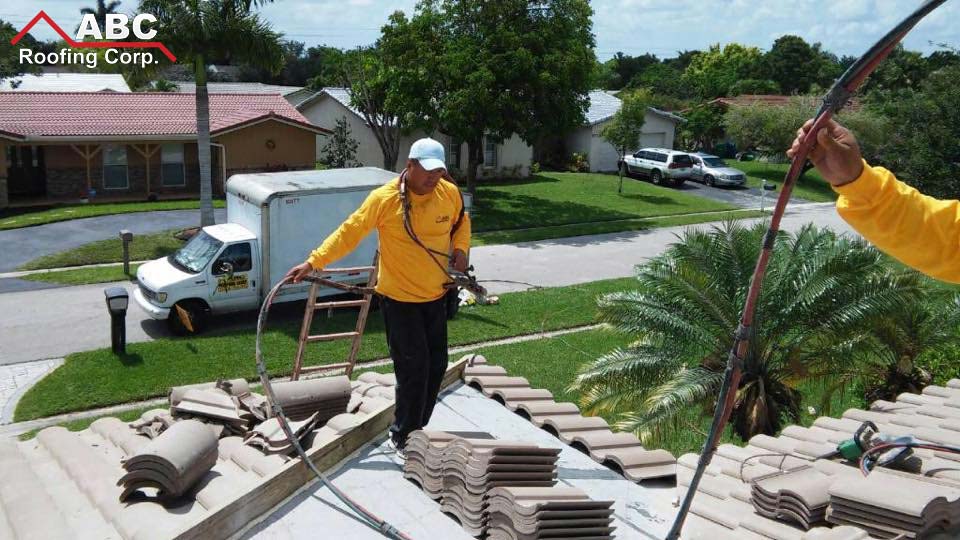 Tile Roofing And More In South Florida
ABC Roofing has over 30 years of experience serving the roofing needs of residents in Jupiter and Coral Springs. If you're interested in learning more about roofing materials or have additional roofing needs, call 954-344-4622 for a free estimate. Let our expert roofing contractors walk you through all the advantages of tile roofing for your Florida home.
---
---