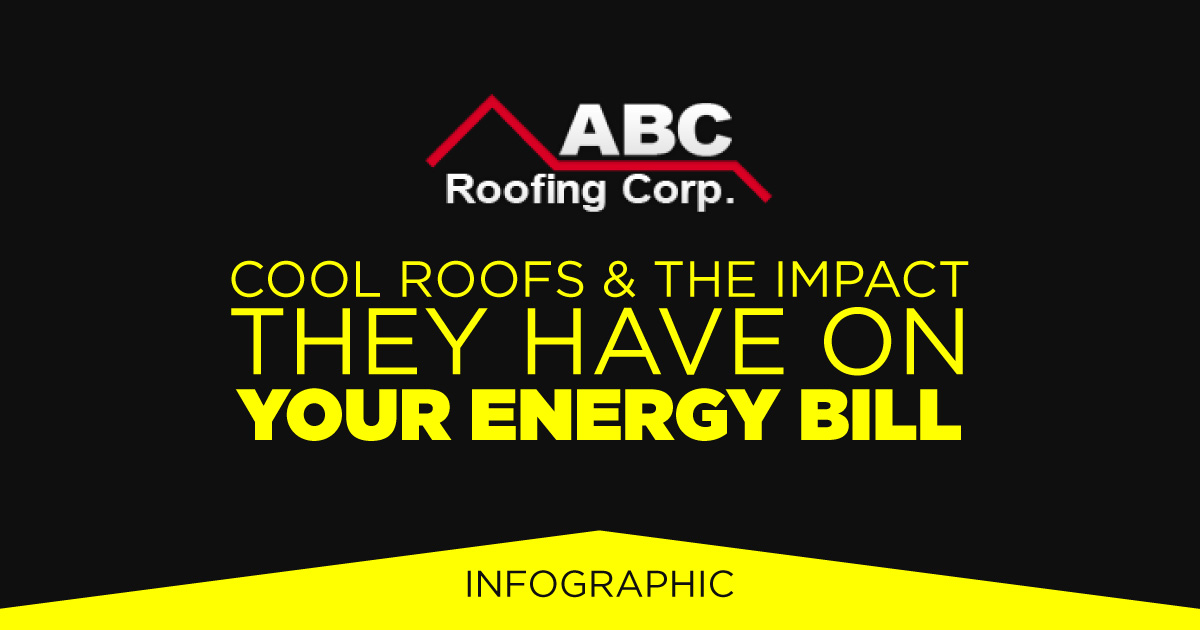 Summers in Southern Florida are gorgeous but between the rising humidity and temperatures, it is often a better choice to stay inside, (especially given the current COVID-19 pandemic!) What many are unaware of is that our roofs have a lot to do with the temperatures inside our homes and businesses. During the height of summer, it is common for traditional roofs to reach over 150°F in the sun! Not only does this mean that buildings stay warmer, even with the air conditioner running, but you will also be spending more money on your energy bill! One effective way to combat this is by installing a cool roof.
Here ABC Roofing explains what cool roofs are and their impacts.
What Is A Cool Roof?
A cool roof reflects sunlight without absorbing as much heat as a traditional roof, allowing the home or building to stay cooler. Basically, it is much like the difference between wearing a white shirt and a black shirt on a hot day. While the idea of cool roofs may seem new, they have been around for several years but have made many recent improvements.
Benefits of Cool Roofs
Though saving money on energy bills is what draws most people to install cool roofs, there are several facts and benefits one should consider before making the change.
Benefits include:
Occupant Benefits:
Average savings of 7% to 15% on energy bills.
Prolonging the life of your air conditioner.
Extending roof life.
Increasing home's curb appeal.
Possible utility rebates.
Environmental Benefits
Decrease electricity demand.
Help prevent blackouts and power outages.
Cuts landfill waste.
Reduce emissions, including:

Carbon dioxide
Mercury
Nitrous oxides
Sulfur dioxide
Types Of Roofs
Another factor people love about cool roofs is that since there are so many types available, the roofs are customizable! Though you have many options, it is essential to consider the different types to decide which is best for your home or business and energy bill. Some popular cool roof options include:
Naturally Cool Roofs

Using white or light-colored vinyl or other roofing material increases the ability for a home or business to absorb light by 60% – a full 10% to 20% more than a traditional roof.

Coated Roofs

Unlike replacing your old roof with a cool roof, coated roofs add a solar reflective barrier that allows them to function much like a naturally cool roof.

Insulated Cool Roofs

These roofs pair naturally cool roofing materials with high-quality insulation that helps to keep the hot air out during the summer and in during cooler months.
Deciding On A Cool Roof
We all want to lower our energy bills and installing a cool roof is a practical way to do it, but there are many things to consider before making the switch. It is also crucial to weigh the costs of installing a cool roof to the amount of energy and money you will save. If you are building a new home or business, the significant decisions can be made in the planning stages but if you are replacing your traditional roof you must decide if you want to:
Retrofit the roof
Recover the roof
Replace the roof
Cool roofs are becoming extremely popular in Florida due to our warm climate and sunny weather. For over 30 years, ABC Roofing Corp. has been trusted by thousands of residents and businesses with roofing needs. If you have any questions about cool roofs or are ready to save on your energy bill, call us today at (954) 344-4622.
---
Cool Roofs & The Impact They Have On Your Energy Bill (Infographic)

Copy and paste the code below into your website to display it on your website.
---
---