When it comes to maintaining and repairing your home, the roof requires special attention. A well-maintained roof is crucial for protecting your home from the elements, but hiring the wrong roofing contractor can put your home at risk.
For this reason, careful consideration needs to be put into choosing the right roof expert for your home. This means making sure that they are both licensed and insured. ABC Roofing shares all the potential hazards and red flags associated with hiring unlicensed roofing contractors:
A Lack Of Proper Insurance Coverage
One of the biggest risks of hiring an unlicensed roofing contractor is that they may not have the necessary insurance coverage.
The truth is that roofing work comes with a lot of risks. It's a job where accidents can easily happen. This could not only lead to property damage but injuries as well. A licensed contractor will typically carry insurance that protects both their workers and your property for this reason.
When contractors lack proper insurance coverage, it means that you could be left covering the costs of any accidents or damages that occur. These costs could be anything from repair costs to medical expenses and legal claims from workers.
They May Not Be Properly Trained
To earn their licenses, roofing contractors have to undergo training and education. This proves that they know the latest industry standards, techniques, and safety protocols.
When you hire an unlicensed contractor, you don't know if they have the necessary training and expertise to perform quality work. Not only could this lead to shoddy craftsmanship, but improper installation techniques could lead to further damage to your roof. This could go so far as to compromise its structural integrity.
Your Home Insurance Could Be Voided
Home insurance policies often have specific requirements when it comes to contractor licensing and permits. In fact, hiring an unlicensed roofing contractor might be considered a violation of your policy terms.
For example, if you file a claim for roofing repairs or damages caused by the unlicensed contractor's work, your insurance provider could deny coverage. This situation can leave you with financial burdens and having to cover repair costs out of your own pocket.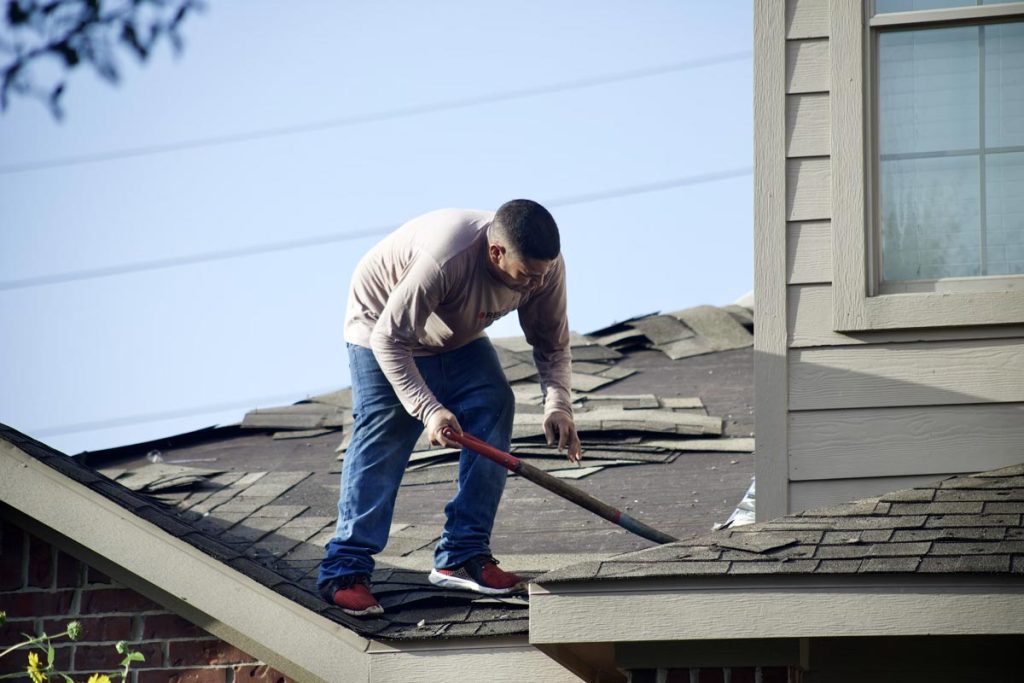 Getting The Necessary Permits May Not Be Prioritized
Roofing projects often require permits and inspections by professionals to ensure compliance with local building codes and regulations. Licensed contractors are well-versed in these requirements and can navigate the permitting process easily.
The same can't be said for unlicensed contractors, who may not prioritize getting the necessary permits or meeting code standards. It's this kind of oversight that could get you in serious trouble. Not only could you be liable for a fine or penalty, but you may even have to redo the entire project to meet compliance standards.
Your Legal Options May Be Limited
If you hire an unlicensed roofing contractor and run into problems down the line, your legal options may be limited. The truth is that unlicensed contractors tend to operate under the radar, which makes it difficult to locate them or hold them accountable.
This isn't the case when working with a licensed contractor. In fact, they are bound by professional regulations and can be pursued through legal channels if it becomes necessary.
Call ABC Roofing Contractors For All Your Roofing Needs
Hiring an unlicensed roofing contractor could expose you to significant risks and financial liabilities. From inadequate insurance coverage to subpar workmanship and potential legal issues, the dangers associated with unlicensed contractors outweigh any potential cost savings.
Protecting the investment of your home is made easy with ABC Roofing's licensed roofing contractors. Call us today for more information at 954-344-4622.
---
---