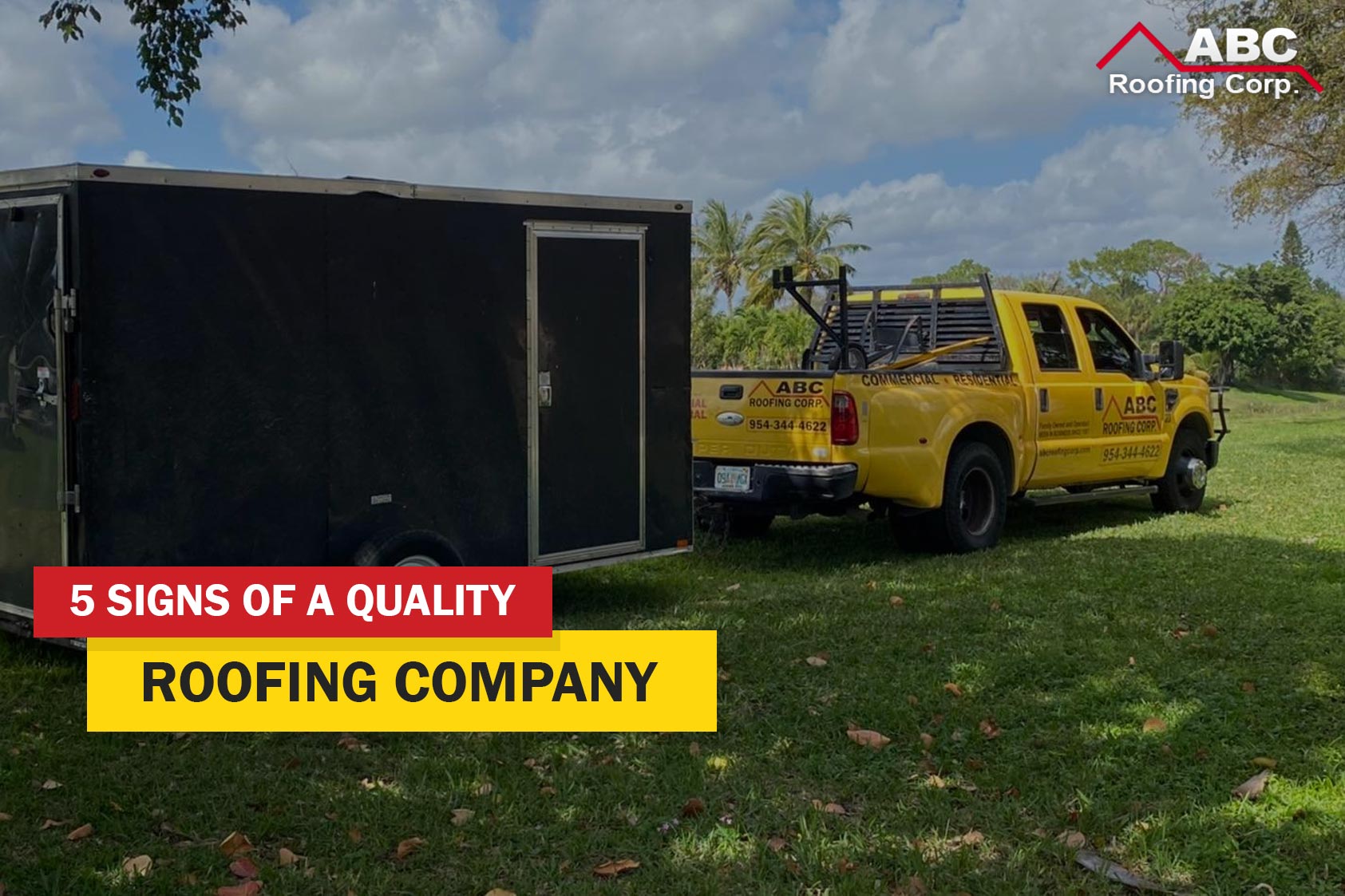 When you're searching for a quality roofing company in South Florida, there are a few things you should keep in mind during your search. By taking extra care to choose a professional roofer to work with, you can have peace of mind that all of your residential and commercial roofing needs will be met.
Here are five signs that you are working with a quality roofing company.
Signs of a Quality Roofing Company
1. Team player
The best quality roofing company not only keeps the best team on hand, but they ensure they are properly trained and have the safety equipment to perform the job safely and to a high standard. All of the team members at ABC Roofing have years of experience working on both residential and commercial roofing projects.
2. Verifiable paperwork
Before hiring a roofing company, ask them for proof of insurance, insurance (including liability protection and worker's compensation), warranties, and any guarantee offers that may be available for your commercial or residential roofing project.
3. Good communication
A reliable quality roofing company will have open communication with you. They'll not only be available to answer your questions before hiring them, but also during a project.
4. Realistic, written estimates
Be careful about low bids for your project. A mid-range one will include a written estimate with figures for all materials, the labor costs, and a financial schedule for payments.
5. Meets deadlines
At ABC Roofing, we work diligently to meet the schedules of all of our residential and commercial roofing projects. If a delay occurs, we will always communicate with you immediately with a new estimated completion date.
Our South Florida Roofing Experts
As one of South Florida's leading quality roofing companies, ABC Roofing has you covered for all residential and commercial roof replacements, home roof repairs, leak repair, and other roof maintenance. We are a large family-owned and operated and state-certified roofing company. Our South Florida roofing experts have served Broward and Palm Beach counties for over 30 years with the same ownership. Our reputation as an honest and loyal roofer has continued for our entire existence.
Learn More About Our Residential and Commercial Roofing Services
ABC Roofing is an industry leader for all your roofing needs in Broward and Palm Beach Counties. Our family-owned business takes pride in our work and we have received many awards for our workmanship and professionalism.
We always use approved materials according to Miami-Dade County and offer a GAF Golden Pledge Guarantee for all of our work. To learn more about our South Florida quality roofing company, call our team today to learn more about our roofing services or to get a roofing quote at 954-344-4622.
---
---