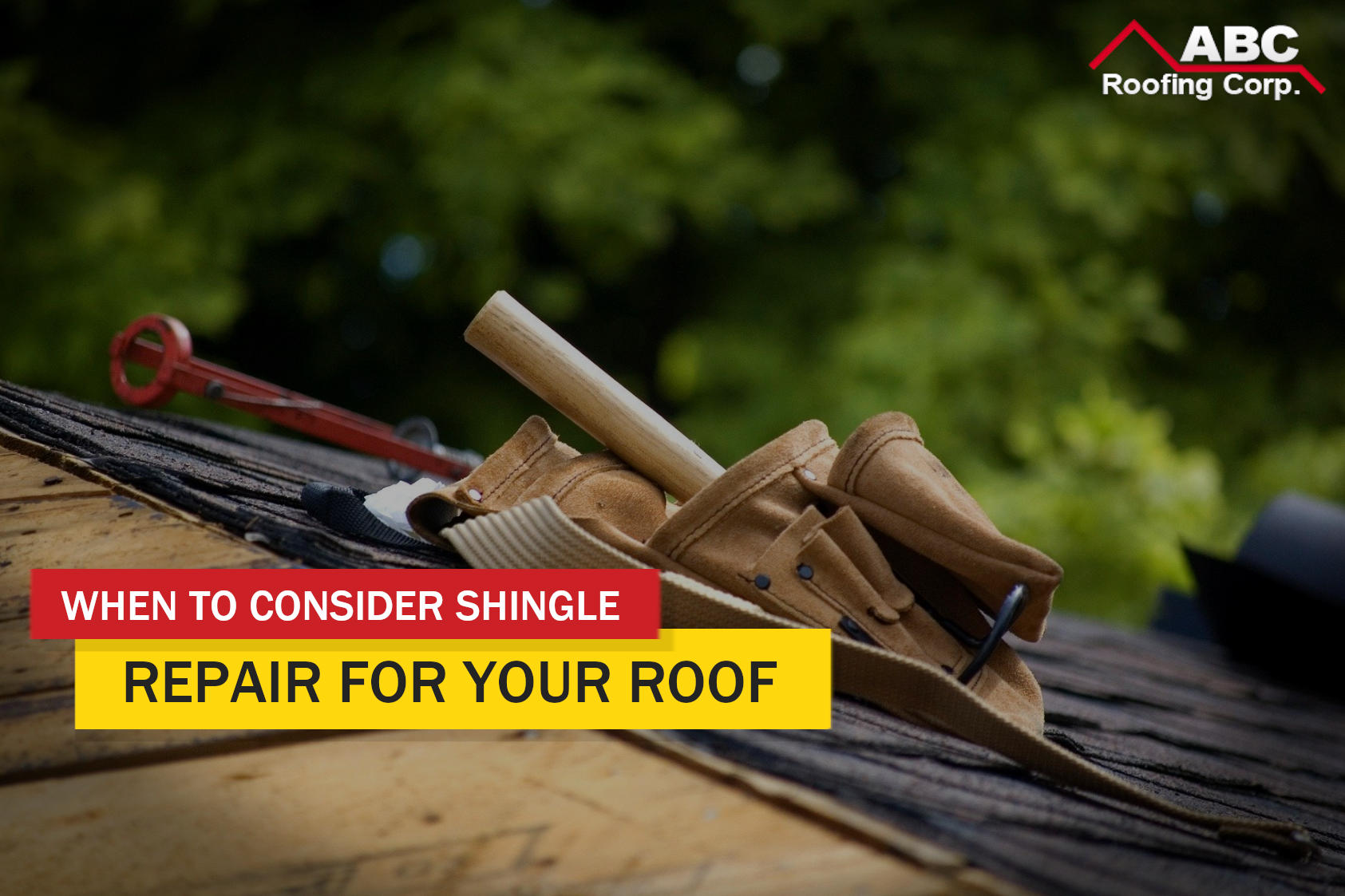 Florida's hurricane season annually brings heavy rain and strong winds. Most homeowners do whatever they can to protect their homes from the elements, but the roof still takes a real pounding. If you have a shingle roof and you notice that there has been some damage, you will need professionals to advise you if it should be repaired or replaced.
When Should You Consider Shingle Repair?
There are instances where a roofing contractor will recommend shingle repair as opposed to replacement. A professional contractor will get onto the roof and assess the damage taking into account:
The number of shingles that are cracked, damaged, or buckling. Roof shingles should lie flat.


The size of the leak. The contractor will also carefully examine the attic boards for moisture or sagging which would be an indication of a larger problem. If the damage is minimal, the shingles do not need to be replaced, they can be repaired.


If the damage is minimal and/or the shingles are less than 15 years old they can be repaired.


If less than 30% of the shingles are damaged, your contractor may recommend repairing them.


If the contractor can match the existing color or the damage is on a part of the roof that is not visible, repairing them may be a viable option.


If there are a small number of granules in the downpipes or gutters, the contractor may recommend repairing the damaged shingles. A large number of granules will indicate that the damage is extensive and the shingles will need to be replaced.
There will be instances where simply repairing damaged shingles is not an option. Your roofing contractor will advise that shingles are replaced if:
The workmanship of the initial installation is poor. Even if only a few shingles are damaged, if the initial installation has not been done correctly, the damage will become progressive over time, especially during storms. The contractor, in this case, will recommend replacement.


If it is the existing roof is damaged or if the shingles have been placed over an older layer. If they have been placed over an older layer, the contractor may recommend replacing the shingles for two reasons:

Repairing them may result in the roof trusses collapsing due to the extra weight.
It will be very difficult to examine the roof deck, and future problems may go undetected until it is too late.



If the roof is old and does not comply with the Florida Building Code, the shingles will need to be replaced.
How To Maintain Your Shingle Roof
Roof shingles can have a lifespan of 15 to 20 years if they are installed correctly and properly maintained. Although the elements also play a major role in reducing the lifespan of your shingle roof, there are some things that you, the homeowner, can do to prolong their lifespan:
Trim all branches of overhanging trees regularly. Tree limbs falling onto the roof, especially during a storm, can cause major damage to the shingles and underlying structures.


Check the roof regularly, especially during fall and spring, for any leaves that have accumulated and remove them with a leaf blower (not by pressure washing) An accumulation of leaves traps moisture and trapped moisture over time causes underlying damage.


Examine the roof regularly, especially after a bad storm, and repair or replace damaged shingles as soon as possible. Any minor repairs left unattended usually result in major and very costly repairs being needed at a later stage.


Ensure that all shingle repairs, installation, and maintenance are done by professional, licensed roofing contractors. Roof shingles are more likely to get easily damaged when installed by amateurs.
ABC Roofing: Your Roofing Contractors Of Choice For Shingle Repair
ABC Roofing Corp is a large, state-certified, family-owned roofing business that has served South Florida including Broward and Palm Beach counties, for over 30 years. The licensed, skilled, and experienced workers are always supervised and aim to meet and exceed state and county building codes. Want to learn more? Call ABC Roofing Corp (954)344-4622 for all roofing needs.
---
---